This article was originally featured in ImpactAlpha.
Social investors and organisations seeking social investment often struggle to find each other. An award-winning match-making service created by the Asian Venture Philanthropy Network has seen 200 successful deals across the Asia-Pacific so far this year. Its manager, Jasmine Chew, explains more.
As the only pan-Asian network for social investors and philanthropists, the Asian Venture Philanthropy Network (AVPN) launched the Deal Share Platform in 2016 to address a fundamental issue that funders and resource providers face whilst trying to support social purpose organisations  – the financial disconnect between funders and social purpose organisations. While funders may be willing to pledge financial and non-financial support, identifying a quality social purpose organisation is not easy. Conversely, social purpose organisations requiring continued support to scale sustainably have challenges connecting with relevant funders.
To this end, AVPN has built a resource and funding pipeline for social purpose organisations to gain continued resources at different growth stages. By streamlining communication about existing and prospective funding opportunities, the AVPN Deal Share Platform not only increases the visibility of quality social purpose organisations, but also enables members to further collaborate and co-invest in social purpose organisations in a more targeted manner.
Complementing the Deal Share Platform online efforts, the AVPN Deal Share Live sessions serve to highlight interesting and successful projects in Asia that are supported by our members to the wider community at the annual AVPN Conference, as well as at curated events. These sessions will give both investors and investees exposure and visibility to other grant-funders, impact investors and possible partners in the region. It is also an opportunity for us to hear from the social purpose organisations on their implementation work on the ground, to understand how they work with resource providers and identify how we can collaborate with each other.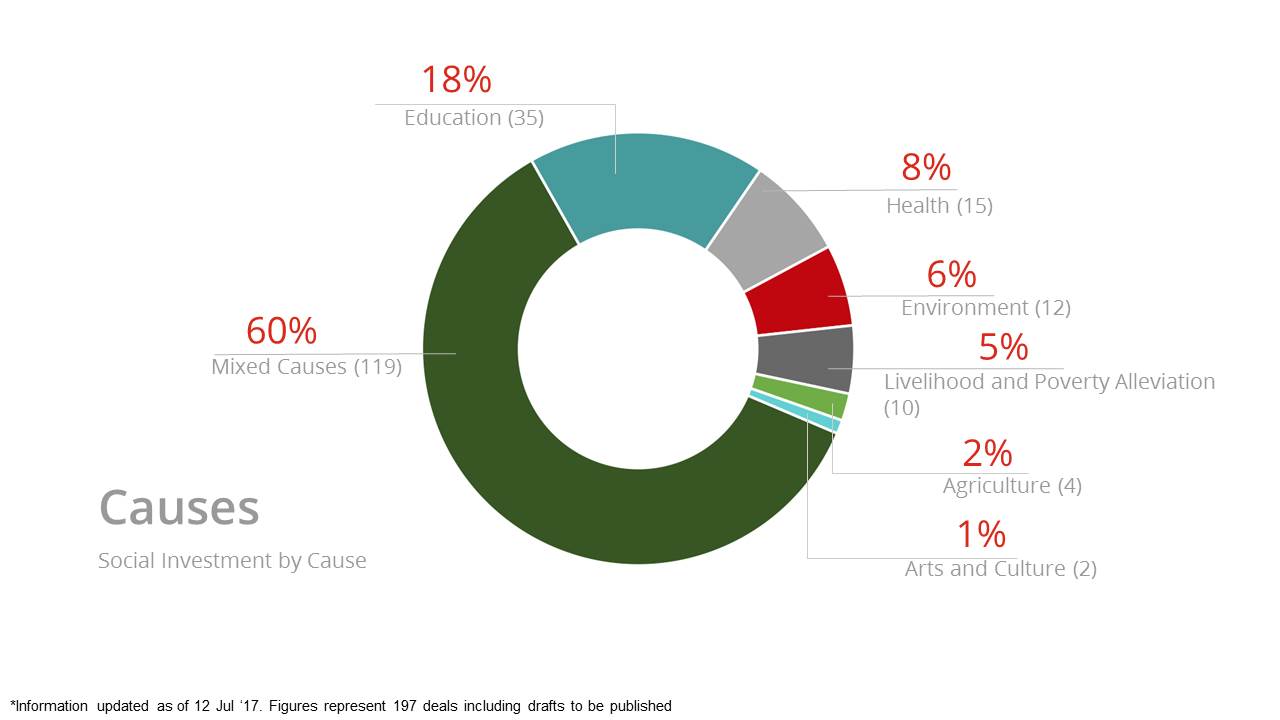 Above: Social investment by cause generated by the Deal Share Platform in 2017
This endeavour has proven to be effective. Take AgriSocio for instance, which promotes sustainable agriculture in Indonesia improving farmers' livelihoods and their villages' development. The social enterprise received early-stage seed funding by the Singapore International Foundation and was later incubated by UnLtd Indonesia in its accelerator programme through the exchange at the 2015 AVPN investment showcase (the predecessor of Deal Share Live). Singapore International Foundation and UnLtd Indonesia later got together to also organise the first ASEAN SE Conference on Social Entrepreneurship in 2016 to foster greater collaboration in the region.
Social purpose organisations on the Deal Share Platform are creating social impact ranging from empowerment through education and capacity building training, responsible production and purchases, inclusive healthcare, wastewater treatment to bio-diversity conservation. One example is Bamboo Toothbrush, which was developed by Dr Noah Park, a dentist who has volunteered for dental care with relief organisations in the bottom-of-pyramid areas, realising that job creation using local resources is a more self-reliant and sustainable way of helping the under-privileged communities in Indonesia, Thailand and Vietnam. Through Deal Share, Dr Noah is collaborating with AVPN member Evergreen Labs. As a local implementation partner, Evergreen Labs will aid in setting up full production in Vietnam with the focus on employing and training bottom-of-the-pyramid workers.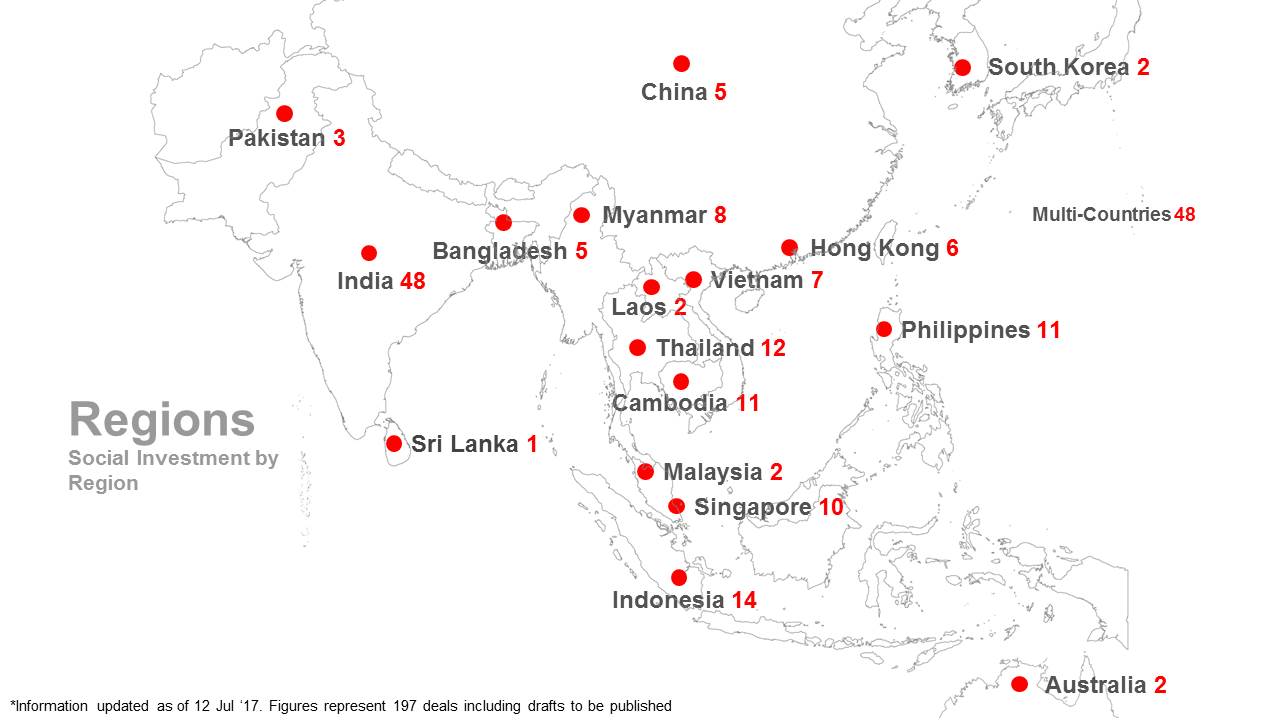 Above: 197 deals across Asia-Pacific were generated by the Deal Share Platform in 2017
For its efforts, the Deal Share Platform won the Distinction award at the 10th anniversary Swiss Philanthropy Foundation "Great!" event this year. The event, which aimed to celebrate philanthropy in its diversity, highlighted ten innovative initiatives around the world that have made traction in the social sector, with the Deal Share Platform being one of them.
"We are extremely honoured and humbled to have received the award, but our work is far from done," says AVPN CEO, Naina Batra. "Our next step is to catalyse pooled funding for under-represented causes with high-impact potential through high quality social purpose organisations." With a fund that pools capital from across the spectrum of social investors, social purpose organisations' needs can be addressed to drive deeper impact.
For more information on the Deal Share Platform, please contact us at dealshare@avpn.asia